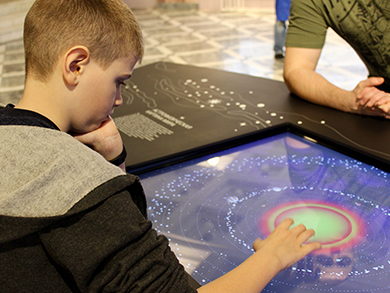 Public Outreach and Networking
The CaSGC"s community outreach program provides an informational interface to NASA's Enterprises and to the U.S. Aerospace Program. Space Grant personnel (affiliate campus directors, faculty, and students) interact with the community through student – mentor projects, lectures and presentations to the public and news media, and serving on committees involved with community technical or educational issues. They provide the expert content for many community and statewide education, high technology workforce development and research programs. Along with this, many Space Grant affiliates have produced informational web sites to educate and inform the public. These projects cross all of the NASA Enterprises and involve CSGC affiliates throughout California.
An example of two southern California educational outreach projects involve translating space research into informational exhibits in two San Diego museums, the Birch Aquarium at Scripps Institution of Oceanography and the Reuben H. Fleet Science Center. Similar programs have been instituted across California. The partnership with the museums and other informal educational organizations throughout California provides access to mentors and instant contact to a large section of the community. Similar programs have been established by CSGC affiliates in central and northern California.
On the student – mentor projects, the students work in teams; mentors guide them and they generate useful products while honing their communications, teaming, and research skills. In the process of putting together web exhibits for the museums, for example, they find they are learning the science, they are learning how to translate difficult concepts to the public, and they are learning how to work for a demanding customer without loosing patience.